Student Government Association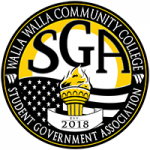 The Student Government Association (SGA) on Walla Walla and Clarkston Campus comprises of elected and or selected student representatives who are spokespersons for the student body. It is their responsibility to listen to the concerns, issues, and interests of the student body to help with solutions, opportunities, and resources.
SGA Purpose:
The purpose of SGA shall include:
Promoting a democratic form of Student Government and setting a basic forum to carry on the business and by providing an official voice through students' opinions and actions.
Promoting good citizenship by encouraging student minds for further development to enrich the community through student leadership and participation.
Promoting social, cultural, educational, equitable, and recreational activities for all students registered under Walla Walla Community College.
Walla Walla SGA
Officers
SGA President – Mia Solvang
Executive President – Hailie Corona
Vice President of Student Clubs – Sean Roggiero
Vice President of Media and Technology – Charles Boykins
Advisor
Vince Ruzicka
Clarkston SGA
Officers
Executive Vice President – Elizabeth Cole
Vice President of Communications and Technology – Karis Cole
Vice President Activities and Events – Damien Comer
Advisor
Paul Boyd