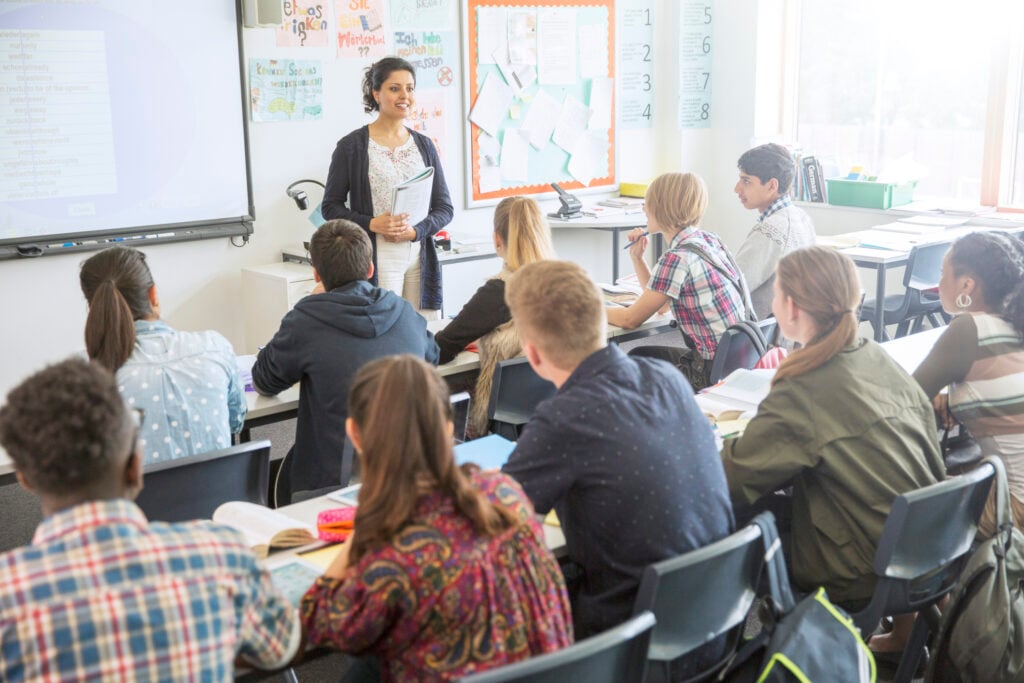 College in the High School
Students & Parents
Walla Walla Community College wants to help you invest in yourself during your high school years, getting double the return for your time and effort.  Dual credit programs, including Running Start, College in the High School, and Career & Technical Education classes, give you the opportunity to earn both high school and college credit for the same class.  College in the High School classes provide the challenges and rewards of college coursework in the most familiar and supportive environment possible. 
Why dual credit? In today's world, two-thirds of all jobs require some post-high school training or education.  Taking dual credit classes is connected to higher rates of graduation, college enrollment, and degree completion.  Find out which options may be right for you; click here for a Comparison of Dual Credit Offerings including costs, eligibility, location, curriculum and more.  
College in the High School – Points to Consider
Location: Students stay on the high school campus during the regular school day and academic year—no transportation to a college campus required.
Familiarity: Students are taught by a local high school teacher who is approved by the college; students still enjoy the high school experience complete with friends, clubs, and sports.
Eligibility: Students in grades 10-12 can take CiHS classes, as long as they are academically prepared and have met the prerequisite criteria, often a certain writing, reading or math level.
Costs: Students in grades 11-12 may be eligible to have their tuition covered; most of WWCC's partner schools have grant money available, so ask your school counselor for information.  Tuition for self-pay students is $65.00 per credit, a 50% savings over WWCC's low, in-state rates.  Books are free and provided by the high school.
Rigor: All CiHS classes follow approved college curriculum; students are presented with coursework, assessments and expectations that are equivalent to that found on the college campus, but have more time to meet learning outcomes (one semester/trimester, usually).
Credit/Transcripts: Students earn college credit for completing the course.  As with all college classes, there is an option to drop the class if a student feels the class isn't going as expected, but a completed class will post whatever grade the student earned onto his/her official WWCC college transcript and GPA.
Is CiHS right for me (or my student)?
If you are ready to take rigorous coursework, start your college education, and prefer to stay on your high school campus, then College in the High School may be right for you. CiHS students are college students and they're held to the same standards of achievement and conduct as students on the WWCC campus. Students should be prepared to deliver college level thinking, speaking, and writing, and be able to engage in civil discussion of competing ideas.
The greatest risk of enrolling in a College in the High School class is that the student is earning transcripted credit, meaning the credit—and grade—will go on an official college transcript. Once it's there, it remains throughout the student's educational career at WWCC or elsewhere, being counted in the grade point average (GPA) and total credits earned toward a degree or program. Grades of C- or lower may be eligible for grade forgiveness (a student can repeat the class for a better grade), but grades of C and higher are permanent.
Lastly, for students in 10th grade there is also potential for future impacts on federal and state financial aid. See the Dual Credit Comparison document for more information.
High School Teachers
Our Commitment to CiHS Instructors: An Ongoing Collegial Partnership
At its essence, College in the High School is about allowing students to accelerate their academic studies without sacrificing their high school experience.  As an educator, you know that students thrive when they are working at a pace they can handle with the support of trusted teachers and administrators.  Helping all students see that they can be successful in post-secondary education, whether in the trades or academic lanes, is a goal we are all passionate about achieving.  College in the High School may help you bring those opportunities to your local district.
Our administrators, coordinator and faculty are committed to providing you the support, professional development, and collegial partnership necessary to augment your skills and knowledge as you deliver college classes in your high school classroom.  Our charge is this: to ensure CiHS concurrently-enrolled students receive an equivalent experience to students on the college campus.  We will help you with the framework, learning outcomes, assignments & assessments, and college-appropriate expectations for rigor, grading and performance/behavior.  Our faculty liaisons assist you from onboarding through the end of the course.  We are here to ensure you and your students have the greatest chances of success in your college class.
High School Teachers Benefit from CiHS Articulations
Secondary instructors are paired with WWCC faculty liaisons who assist with course instructional methodology, curriculum development, assessment, and supplemental materials.
A collegial partnership between the secondary instructor and faculty liaison is formed through dialog, annual on-site classroom visits, and professional development opportunities.
Secondary instructors are building their students' capacity and confidence as they prepare them for higher education.
Instructors are continuing their efforts to develop and maintain high quality education standards.
How You Can Teach CiHS Courses
Partner with your principal and superintendent to explore whether College in the High School will fit into your dual credit line-up.  Wondering which courses are the best fit for dual credit?  We recommend the Washington 45, a list of courses that most easily transfer to Washington colleges and universities.
Contact us at

[email protected]

or 509.524.5143 to set up an appointment.
Complete the faculty application and determine which courses you'd like to teach.
We will meet with you, review credentials, and discuss how we can partner for dual credit opportunities in your discipline.